The BT-TH data logger measures and stores up to 500,000 temperature and humidity readings. The LCD screen on the device indicates Bluetooth connection status as well as logger operation. The push button allows cycling of current, minimum and maximum recorded values. The BT-TH comes with rechargeable battery and can be used with a USB wall charger.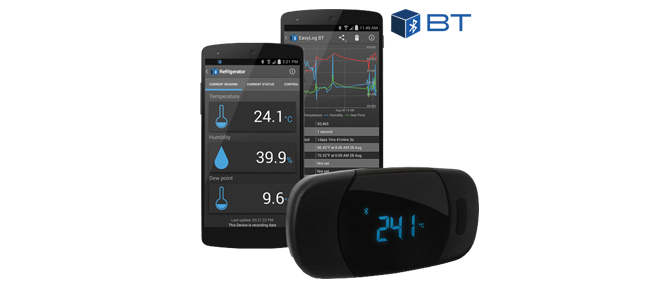 BT Mobile App for Android™
The EasyLog BT app for Android™ is available on Google Play™ and allows you to manage your BT-TH logger with ease.
Easily configure your BT-TH
 Download recorded data and view on your device
Animated walkthrough of the setup process
Export the logger's information via email or other cloud services
Within the app you can set the sample rate, temperature scale, temperature and humidity alarms, Bluetooth power-save settings, LCD settings and variable start times. Downloaded data will be saved to your phone's memory card and can be viewed at any time. You can then send the data via email or your preferred cloud service to another device or Windows PC for further analysis.