Products in the EL-MOTE range of Wireless WiFi Data Loggers work with the EasyLog Cloud to monitor temperature and relative humidity in a wide range of applications.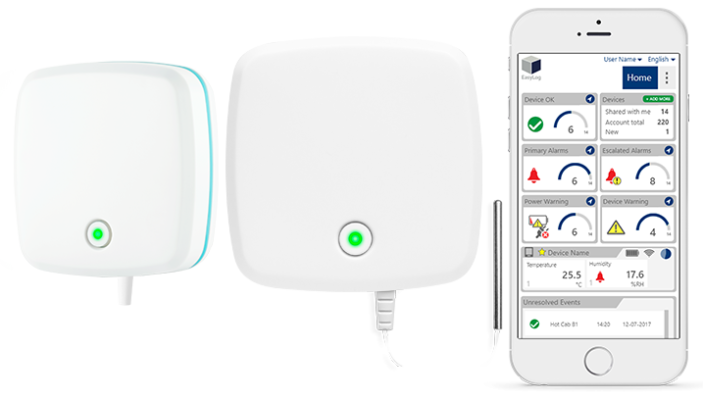 Monitoring Food Preparation Areas & Business Premises  •  Remote Fridge and Freezer Temperature Monitoring •  Monitoring Medical Storage & Environments  •  Facilities Management  •  Indoor and Outdoor Environmental Monitoring  •  Housing, Workplace & Business Premises  •  Agriculture & Animal Welfare  •  Museums & Exhibitions  •  Wireless Greenhouse Temperature and Humidity Monitoring
EasyLog Cloud harnesses the power of IoT to automate data logging and alert notifications – perfect for both compact systems with just a few sensor requirements to corporate solutions with thousands of devices around the globe. Once set up, devices will continually record all readings to the EasyLog™ Cloud, which can be easily accessed via PC, tablet or smartphone.
What Do You Need to Measure?
Ambient Temperature
Ambient temperature probes, available in standard and high accuracy format, are great for environmental monitoring both indoors and out.
Extended Temperature
External temperature probe kits, available in standard or high accuracy format, are useful in applications requiring the measurement of wider temperature ranges, such as fridges or freezers.
Temperature & Humidity
Kits with an external temperature and humidity probe on a two-meter cable are available in standard and high accuracy format.
Set up and Go!
Products in the EL-MOTE range are simple to set up and easy to use. Download the EasyLog Cloud App and pair up a device in minutes over your WiFi network. After set-up, the device can be placed anywhere within range of the WiFi network, continually monitoring and recording your data to the EasyLog Cloud.
Using the Easylog Cloud App, you can monitor your EL-MOTE device remotely from any smartphone or tablet. Keep an eye on temperature and humidity trends in the environments you're monitoring, and get alerts when a data logger goes into alarm mode!
Purchase a Sensor
Register for a Cloud Account
Connect your Sensor
Features of EasyLog Cloud
The EasyLog Cloud system works to suit your needs, from simple domestic environmental monitoring, to compact business systems with just a few measuring points, and corporate solutions with hundreds of sensors around the globe. The flexibility that EasyLog Cloud offers makes enabling the wireless workplace easier and more achievable than ever before.